Chemical Ducting Systems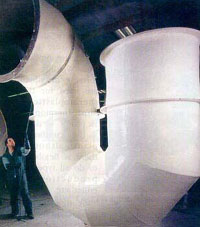 The Duct systems provided by us are lightweight, easy-to-use and available in variety of diameters. We offer customized ducting systems to ensure long lasting service. Our ducting system proffers exceptional chemical resistance to broad spectrum of corrosive fumes, gases and fluids. The ducting systems manufactured and supplied by us are easy to handle and install. The ducting systems fabricated by us are available in various diameters for corrosive fume exhaust and drain applications. These are made of high quality material and supplied by us within given time. We have developed various superb quality chemical ducting system using FRP, PVDF, PP, PE-HD, and PVC to meet all kinds of industry needs. The chemical ducting supplied by us are abrasion resistant, chemical and corrosion resistant. The main feature of our chemical ducting is that these are easy to install, made according to the customer's requirement and available at cost effective price.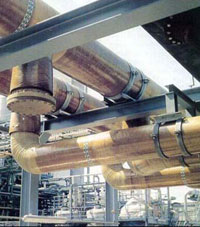 Benefit Of Ducting Systems
The ducting system made and supplied by us contains following benefits:
Seamless, large-diameter with consistent surface smoothness, uniformity and dimensional stability
Long system service life
Exceptional chemical resistance to a broad spectrum of corrosive fumes, gases and fluids
Low overall installed cost
Lightweight - eases fabrication, handling, and installation – reducing installation costs
Scrubbers
The scrubbers and mist eliminators fabricated by us are used in numerous applications. Scrubbers offered by us are used for cleaning fumes and preventing pollution. Scrubbers are air pollution control devices, which can be used to remove particulates or gases from industrial exhaust streams. FRP, PPGL, PP PVC Plastics etc are the most used material for manufacturing scrubbers. The scrubber supplied by us are used to inject dry reagent or slurry in dirty exhaust stream to scrub out acid gases. Scrubbers are the best solution for controlling gaseous emissions especially acid gases.